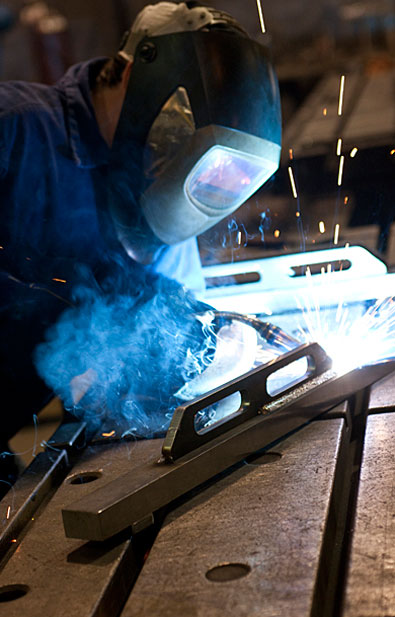 Posted 1/26/2016
Hawk Technology is now looking for qualified individuals to fill four positions: a Robotic Welding Engineer and Design Engineer 2. Interested parties may submit resumes to hr@hawktechnology.com for consideration.
Robotic Welding Engineer Job Description
Accepting resumes for full-time well-rounded Robotic Welding Engineers that are self-motivated with exceptional mechanical aptitude and communications skills. Candidates must have experience programming industrial robots.
Candidate should possess an AAS or equivalent and be familiar with general robotic practices and concepts in accordance with industry accepted standards. Offline programming, design, welding and controls experience is a plus. Position involves working with a large variety of products and customer requirements.
Minimum Requirements
2 yrs previous robot programming experience
Must be willing to work overtime, up to 60 hrs per week
Must be willing to travel up to 30-40%
Must be flexible in work hours
Must have excellent mechanical aptitude and prior experience in manufacturing environment
Positive attitude, team player
Preferred Experience
Experience with Pro/Engineer WF4.0
Robotic Integration Experience
Offline programming experience
Welding experience
Material handling experience
Agricultural or Construction equipment manufacturing experience
Design Engineer 2 Job Description
Designs complex welding and machining holding fixtures, robotic welding cells, special machines and related jigs, dies, and fixtures by performing the following duties.
Essential Duties and Responsibilities include the following. Other duties may be assigned.
Studies specifications, engineering blueprints, tool orders, and shop data.
Confers with engineering and shop personnel to resolve design problems related to material characteristics, dimensional tolerances, service requirements, manufacturing procedures, and cost.
Applies algebraic and geometric formulas and standard tool engineering data to develop tool configuration.
Selects standard items such as bushings, clamps, shims, hydraulic components, electrical controls, and locating devices to incorporate into tool design.
Has a basic understanding of hydraulic, pneumatic and electrical controls.
Draws preliminary sketches and prepares layout and detail drawings.
Complies with all HTL and customer design and drawings standards.
Complies with all safety rules and regulations.
Supervisory Responsibilities
This Job has no supervisory responsibilities.
Qualifications
To perform this job successfully, an individual must be able to perform each essential duty satisfactorily. The requirements listed below are representative of the knowledge, skill, and/or ability required. Reasonable accommodations may be made to enable individuals with disabilities to perform the essential functions.
Education and/or Experience:
Associate's degree, plus at least 3 years of experience and/or training in advanced tooling and fixture design utilizing parametric design software; or equivalent combination of education and experience.
Language Skills:
Ability to read, analyze, and interpret general business periodicals, professional journals, technical procedures, or governmental regulations. Ability to write reports, business correspondence, and procedure manuals. Ability to effectively present information and respond to questions from groups of managers, employees and customers.
Mathematical Skills:
Ability to work with mathematical concepts such as probability and statistical inference, and fundamentals of plane and solid geometry and trigonometry. Ability to apply concepts such as fractions, percentages, ratios, and proportions to practical situations.
Reasoning Ability:
Ability to solve practical problems and deal with a variety of concrete variables in situations where only limited standardization exists. Ability to interpret a variety of instructions furnished in written, oral, diagram, or schedule form.
Computer Skills:
Knowledge of Pro/Engineer software required, WF4.0 preferred.
Knowledge of MS Office preferred.
Pneumatic, hydraulic and electrical design experience preferred.
Robotic integration experience preferred.
Other Qualifications:
Experience and knowledge in general design and development of sheet metal, castings, tooling and utilizing hydraulics, pneumatics and electrical systems required.
Must be willing and able to work overtime, up to 60 hours per week, including Saturdays and Sundays.
Must be able to work flexible hours.
Must be detail-oriented and self-motivated with the ability to work with limited direction.
Must be dependable and reliable with a positive work history in attendance.
Must possess excellent mechanical aptitude.
Physical Demands:
The physical demands described are representative of those that must be met by an employee to successfully perform the essential functions of this job. Reasonable accommodations may be made to enable individuals with disabilities to perform the essential functions.
Other Qualifications:
The work environment characteristics described here are representative of those an employee encounters while performing the essential functions of this job. Reasonable accommodations may be made to enable individuals with disabilities to perform the essential functions.
The noise level in the work environment is usually moderate. The employee is occasionally exposed to outdoor weather conditions. Parts of the work environment are not climate-controlled.