24 Hour Technical
Assistance Hotline:
(855) 750-HAWK
NEW WATER JET CUTTING SERVICES!
CHECK OUT OUR FREE DEMO EQUIPMENT
Due to the Covid-19 pandemic Hawk Technology is closely monitoring conditions daily. We are running at limited capacity, but we do remain open and have been deemed essential in order to keep critical manufacturers operational. We are following state guidelines and best practices. Contract us today if you have further questions or are in need of critical service and support.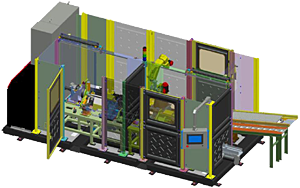 Material Handling Robot with Plasma Arc Welding
Produces 1 part every 12 seconds
Intuitive Recipe based programming capabilities
12" full color HMI touch screen
Automated infeed and outfeed with vision sensing
RIA Compliant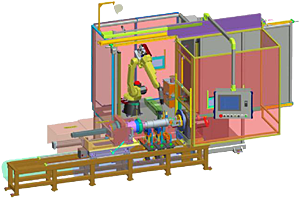 Robotic Welding Cell with Twin Station Head and Tailstocks
GMAW Welding at 30ipm travel speeds
Full color HMI touch screen
Intuitive recipe based programming
RIA Compliant
Cutting edge cable management
Detach Jog functionality is standard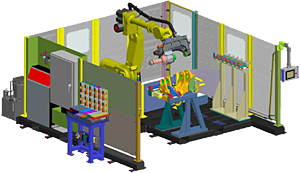 Robotic Material Handling Bushing Press
Press forces up to 50,000 lbs
Automatically presses 14 bushings per cycle
Automatic magazine bushing feeder
Automatic bushing arbor tool change
Servo controlled bushing press (no hydraulics)
Full color HMI w/intuitive recipe based programming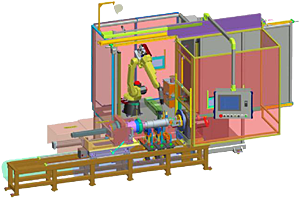 Robotic Weld Cell with Automated Assembly
GMAW Welding up to 500A
Servo controlled assembly functions
Full color HMI w/intuitive programming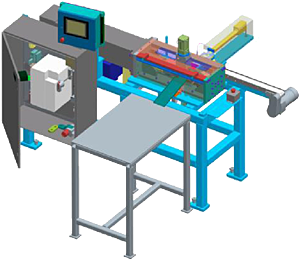 Automated Pull Tester
Provides up to 144,000lbs of pull force
Accurately measures stress/strain within +/-.001"
Automatic part reject capabilities
Automatic data reporting to plant network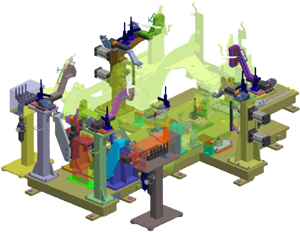 Tack Welding Fixture with Hydraulic Clamping
Locates 126 individual pieces
44 hydraulic cylinders with 12 sequences
Hawk Technology Ltd Patented tooling ball system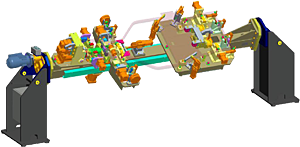 Tack Welding Fixture with Pneumatic Clamping
Powered trunnions with up to 600 ft/lbs of torque
Integral backbone to provide outstanding weld access
Hardened locators with shimmability
Six degrees of freedom accurately for every detail
Full 3d parametric concurrent design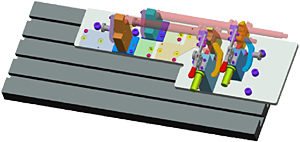 Machining Fixture
Manual clamping
Fixture keys for accurate location
T-Slot table custom manufactured
Coolant resistant materials used throughout
Designed with vibration dampening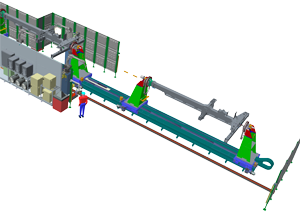 Three arm welding system
20 axis welding system
12,000lb capacity
85' of linear track
Three welding arcs simultaneously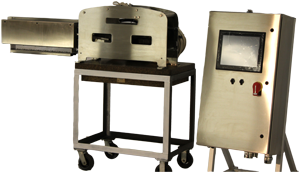 Vision Inspection System
8 lane simultaneous inspection
Speeds up to 300 parts per minute each lane
Achieved .05% repeatability for inspection
Food Grade rated
Over 40 installed systems operating worldwide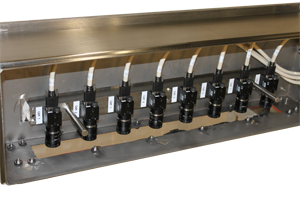 Vision Inspection System
8 lane simultaneous inspection
Speeds up to 300 parts per minute each lane
Achieved .05% repeatability for inspection
Food Grade rated
Over 40 installed systems operating worldwide